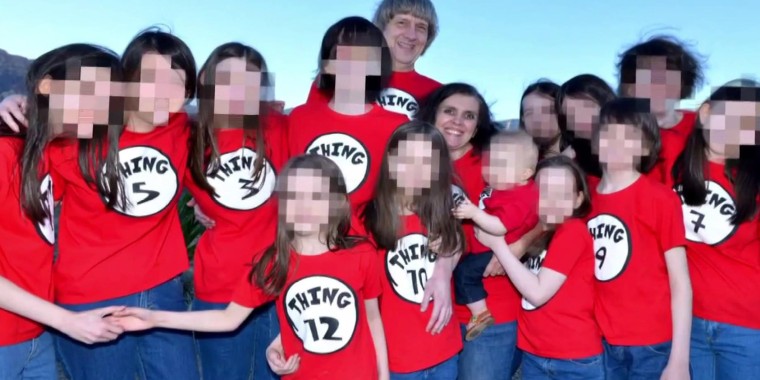 Turpin Family – Image courtesy of NBC News
WARNING:  Graphic Images
Most of us remember the Turpin children because of the extreme abuse they endured.
The 13 children suffered years of torture, starvation, and neglect at the hands of their parents before being rescued in 2018 from the house of horrors in which they were raised. 
Now it appears that rescue was illusory.
Further Abuse
The 6 youngest children have filed suit against Riverside County, CA; ChildNet Youth and Family Services; and the Foster Family Network, alleging they were placed with a foster family who emotionally, physically, and sexually abused them [1A][2].
The children claim the Olguins for three years fondled them, struck them with belts, forced them to eat their own vomit, threatened them with a return to their biological parents, told them they were worthless, and urged them to commit suicide.
Faithless Bureaucrats

How could this have been allowed to happen?
These children had been brutalized.  They should have been treated with the utmost care by the agencies which undertook to safeguard them.  Instead, they were subjected to trauma on trauma, as their lawyer Roger Booth put it [1B].
Dante in his Divine Comedy assigned sinners guilty of treachery against those with whom they had special relationships to the 9th circle of hell [3].  The Turpin children have already experienced that.  One cannot help but think faithless bureaucrats belong there, as well.
—
[1A and 1B]  New York Post, "Tortured Turpin kids say abusive foster family made them eat their own vomit:  suit" by Marjorie Hernandez, 7/20/22, https://nypost.com/2022/07/20/turpin-children-abused-by-foster-family-forced-to-eat-own-vomit-lawsuit/.
[2]  NBC News, "Turpin siblings rescued from torture in California home were then 'horrifically abused' by foster parents, lawsuit says" by Diane Dasrath and David Li, 7/20/22, https://www.nbcnews.com/news/us-news/turpin-siblings-rescued-torture-california-home-horrifically-abused-fo-rcna39151.
[3]  Wikipedia, "Inferno (Dante)", https://en.wikipedia.org/wiki/Inferno_(Dante).
FOR MORE OF MY ARTICLES ON POVERTY, POLITICS, AND MATTERS OF CONSCIENCE CHECK OUT MY BLOG A LAWYER'S PRAYERS AT: https://alawyersprayers.com