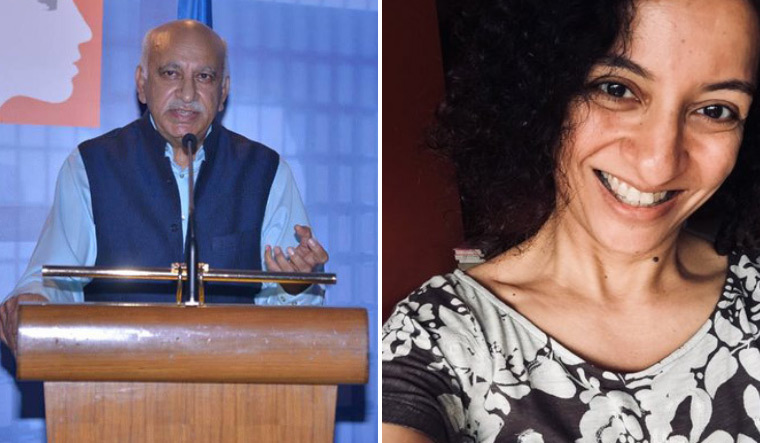 MJ Akbar (left), Priya Ramani (right), Image courtesy of The Week https://www.theweek.in/news/india/2021/02/17/metoo-priya-ramani-acquitted-in-defamation-case-filed-by-mj-akbar.html.
WARNING:  Graphic Images
Earlier this year, an Indian court acquitted journalist, Priya Ramani, in a criminal defamation case by former government minister, MJ Akbar, for accusing him of sexual misconduct [1].
Ramani had alleged in a social media post that she was sexually harassed by Akbar in 1993, when called to a Mumbai hotel for a job interview.  Following Ramani's allegations, over 20 other women came forward to make similar allegations against Akbar.  As a result, Akbar was forced to step down, though not before he filed suit.
Sexual harassment deprives women of dignity, and confidence in the workplace.
The Indian Supreme Court, in 1997, formulated the Vishaka Guidelines on sexual harassment.  The guidelines became the basis for the Sexual Harassment of Women at Workplace (Prevention, Prohibition and Redressal) Act of 2013.
According to the Indian Women's Chamber of Commerce and Industry, however, nearly 69% of victims fail to report sexual harassment for fear of reprisals.
"In a country where as a woman, the simple act of existing feels like going to war every day, this is huge…"

– Rituparna Chatterjee, workplace safety campaigner
The viability of India's campaign for workplace safety for women depended on the decision in this case.
But the struggle for equal rights in India is hardly over.  In 2019 there were 24 honor killings reported.  As recently as two months ago Sarvesh Kumar was arrested for beheading his 17 year old daughter [2].  She had been talking to a young man of whom her father did not approve.
—
[1]  Daily Beast, "I Was a Victim of Sexual Harassment in India, Today I Rejoice" by Nilanjana Bhowmick, 2/18/21, https://www.thedailybeast.com/i-was-a-victim-of-sexual-harassment-in-india-today-i-rejoice?source=articles&via=rss?ref=home.
[2]  CNN, "Father arrested in India for beheading his 17-year-old daughter" by Manveena Suri and Amy Woodyatt, 3/5/21. https://www.cnn.com/2021/03/05/india/father-beheads-daughter-india-intl-scli/index.html.
FOR MORE OF MY ARTICLES ON POVERTY, POLITICS, AND MATTERS OF CONSCIENCE CHECK OUT MY BLOG A LAWYER'S PRAYERS AT: https://alawyersprayers.com