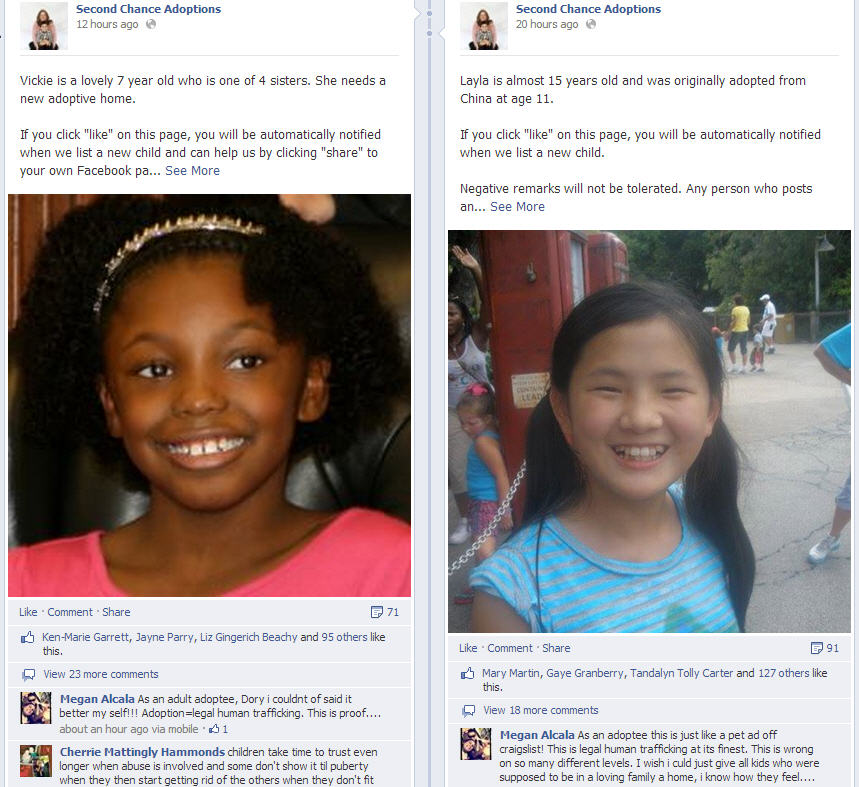 The Dept. of Health and Human Services estimates that 1% – 5% of the 135,000 adoptions finalized in the US each year are later legally dissolved.
Second Chance Adoptions, a division of Wasatch International Adoption Agency (WIAA), is one agency that offers "second chance" adoptions. [1A].
Reasons for Re-Adoption
An adopted family may put a child up for re-adoption for a variety of reasons.  These can range from financial (involving, for instance, job loss and/or the lack of necessary medical insurance) to emotional (involving, in rare cases, Reactive Attachment Disorder a/k/a RAD).
RAD tends to occur in older children who have been severely neglected, raised in unusual settings such as institutions, or repeatedly deprived of a primary caregiver.  Children with the condition are unable to form a strong attachment to their adoptive parents.
Trauma to the Child
Adoption dissolution is no more difficult, legally speaking, than placing a biological child for adoption.  Without question, however, adoption dissolution places children at significant risk of trauma.
Not only are their lives fundamentally unsettled; these children may be left with lifelong doubts as to their own value.
As a result, children can suffer from depression or mood swings, and may be susceptible to disrupted bonding.  Of course, these are the very children in desperate need of love and stability.
Government Regulation
Second chance adoptions are a largely unregulated field.  Many adoption advocates are critical of Second Chance Adoptions and similar agencies.  Though WIAA does not post children's real names, their photos and other information are made public.
"The concept of advertising a child brings out the worst characters who are likely to be looking at the child from a wholly unethical and criminal perspective."

-Richard Klarberg, Pres. and CEO of the Council on Accreditation [1B]
Rep. Jim Langevin (D-RI) and Rep. Tom Marino (R-PA) have introduced the Safe Home Act which would amend the Child Abuse Prevention and Treatment Act by classifying unregulated child transfers as child abuse.
This would not eliminate second chance adoptions, but prevent unregulated ones.
The Family of God
"…to redeem those who were under the law, that we might receive the adoption as sons" (Gal. 4: 5).

Adoption has profound spiritual significance for Christians.  Through faith in Christ, we are adopted into the family of God.
God does not require that we be perfect to qualify for adoption.  Nor does He relegate us to re-adoption, if we falter and sin.  Rather, He forgives us our sins when we repent, gives us a second chance, and sends forth the Spirit of His Son into our hearts that we may cry out, "Abba, Father!" (Gal. 4: 6).
—
[1A and 1B]  The Atlantic, "When Families Un-Adopt a Child" by Jenn Morson, 11/16/18, https://www.theatlantic.com/family/archive/2018/11/children-who-have-second-adoptions/575902/.
FOR MORE OF MY ARTICLES ON POVERTY, POLITICS, AND MATTERS OF CONSCIENCE CHECK OUT MY BLOG A LAWYER'S PRAYERS AT: https://alawyersprayers.com