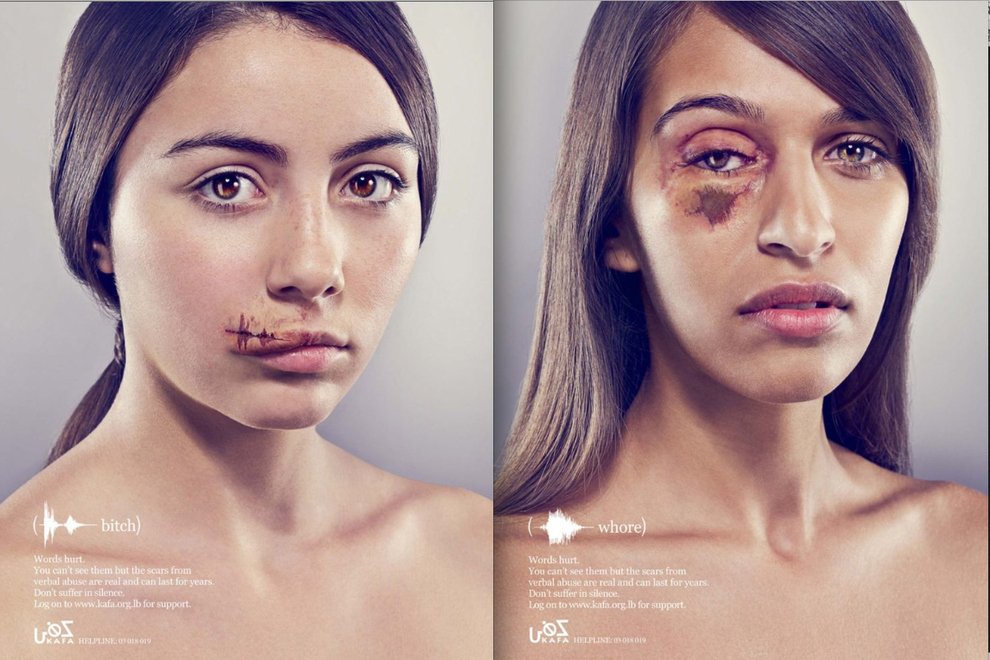 https://art-sheep.com/12-of-the-most-powerful-and-brutal-domestic-violence-awareness-campaigns/
"Violence that occurs between intimate partners does not end with the relationship's conclusion, yet few resources exist to help survivors move beyond the betrayal of abusive relationships in order to begin new, healthy relationships."

-"Intimate partner violence doesn't end with the relationship",  Science Daily, 7/11/18
Some estimates are that one in three women in the United States has experienced violence by a partner, and that one in ten has been raped by a partner.
Abusive behavior by an intimate partner is not, however, limited to physical violence.  It can include verbal, emotional, and financial abuse.
All this is experienced as betrayal by the very individual we most trust, the very individual we rely on to support and protect us, the very individual to whom we have committed our lives.
Shame
The shame associated with intimate partner violence is likely to carry over into new relationships.  This may influence our choice of a new partner.
Once a new relationship has been established, self-esteem issues stemming from the violent relationship can color the routine problems that arise in all relationships.  We may wonder whether we deserve love at all.
Emotional Self-Isolation

In the aftermath of abuse, and especially violence, women may close themselves off emotionally, sometimes permanently.  This is a protective measure.  However, it can undermine new relationships.
Self-Doubt
Because of past experience, we are likely to doubt our own judgment.  Self-doubt may last a long time.  But we can, also, learn from our past.  Caution is not necessarily a bad thing.
Healing
How then do we move beyond betrayal?  While there is no formula for recovery (and no specific time frame), there are stages to healing.
Acknowledging the betrayal.  Our initial response is likely to be denial.  This is understandable.  We simply cannot process betrayal on such a scale.  But we must come to terms with reality.
Stopping self-blame.  We naturally analyze a failed relationship, blaming ourselves for having ignored the signs or having failed to leave the relationship earlier.  But abuse is not our failure.  It is deliberate cruelty by our partner.
Forgiving ourselves for involvement in the relationship.  It was not foolish for us to let our guard down.  Vulnerability is a necessary element of intimacy.  It does not imply weakness, but rather the courage to be ourselves [2].  We may have made mistakes.  But all human beings do.
Communicating with our new partner.  Such communication is key.  Past abuse/violence which is kept secret from a new partner becomes a barrier to intimacy.  A normal partner will want to understand our behavior, reassure, and comfort us.
We enter relationships in good faith.  Though there are no guarantees of success, it is not unreasonable to expect that we be treated with love, respect, and concern.
—
[1]  Science Daily, "Intimate partner violence doesn't end with the relationship", 7/11/18, https://www.sciencedaily.com/releases/2018/07/180711141351.htm.
[2]  Psychology Today, "The Real Secret to Intimacy" by Emma Seppala, PhD, 9/5/12, https://www.psychologytoday.com/us/blog/feeling-it/201209/the-real-secret-intimacy-and-why-it-scares-us.
FOR MORE OF MY ARTICLES ON POVERTY, POLITICS, AND MATTERS OF CONSCIENCE CHECK OUT MY BLOG A LAWYER'S PRAYERS AT: https://alawyersprayers.com