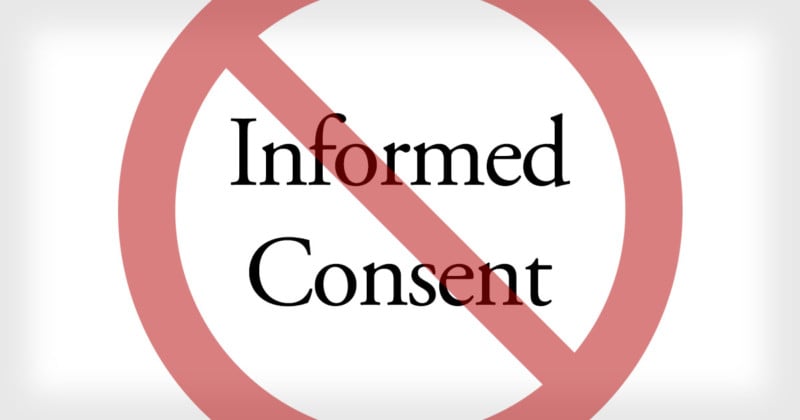 Image courtesy of PetaPixel.
New Jersey nurse, Mischele Lewis, fell in love with the wrong man [1][2].  It was a mistake that would propel her into a world of deceit.
Lewis, a divorced mother of two, believed she had found true love.  The object of her affection, William Allen Jordan a/k/a Liam Allen, described himself as an undercover operative for the British Ministry of Defense.
Jordan turned out to be a con man and convicted sex offender, with ex-wives on two continents, and a half dozen children.  After wearing a wire, Lewis managed to secure a conviction of Jordan for scamming her out of funds.
Lewis then sought unsuccessful passage in New Jersey of a controversial rape law which would have criminalized sex by deception [3][4].  A comparable effort is currently underway in New York, supported by victims of former Hollywood producer, Harvey Weinstein [5].
At issue is the question of informed consent [6].  Though women subjected to the type of fraud Lewis experienced feel profoundly violated, only a small number of states have laws along this line [7].
Rape laws generally focus on the use of force, the threat of physical harm, and mental defect or incapacity (as with use of the "date rape" drug rohypnol).
The concern is that expanding the definition of informed consent to include deception could create a "slippery slope" requiring courts to distinguish between the white lies in which lovers commonly engage and material misrepresentation sufficient to undermine consent [8].
"For there is no faithfulness in their mouth;
Their inward part is destruction;
Their throat is an open tomb;
They flatter with their tongue" (Ps. 5: 9).
Scripture tells us that the human heart is deceitful (Jer. 17: 9).  It is little wonder that violence, callousness, and deception characterize even our most intimate relationships.
—
[1]  NBC News, "'I Wanted Justice':  Con Victim Turns Focus to Changing Rape Law", 1/24/15, https://www.nbcnews.com/news/us-news/i-wanted-justice-con-victim-turns-focus-changing-rape-law-n291661.
[2]  Dateline, "The Mystery Man", 2/12/17, https://www.nbcnews.com/dateline/video/full-episode-the-mystery-man-881079875730.
[3]  Wikipedia, "Rape by Deception", https://en.wikipedia.org/wiki/Rape_by_deception.
[4]  NY Times, "Is Sex by Deception a Form of Rape?" by Abby Ellin, 4/23/19, https://www.nytimes.com/2019/04/23/well/mind/is-sex-by-deception-a-form-of-rape.html.
[5]  ABC News, "New bill that would define 'consent' in New York has the support of 2 Weinstein accusers" by Marlene Lenthang, 4/7/21, https://abcnews.go.com/US/bill-define-consent-york-support-weinstein-accusers/story?id=76897871.
[6]  IMDB, "Web of Lies", The Candyman, Season 3, Episode 10, https://www.imdb.com/title/tt5498880/.
[7]  NY Times, "Is Sex by Deception a Form of Rape?" by Abby Ellin, 4/23/19, https://www.nytimes.com/2019/04/23/well/mind/is-sex-by-deception-a-form-of-rape.html.
[8]  Other situations potentially falling within this umbrella are so called "gender fraud" (disguising one's biological identity prior to sexual intercourse) and failure to disclose positive HIV status to a partner.
Connecticut may expand the state's domestic violence laws to cover "coercive and controlling behavior".  This would include such behavior as isolation, so called "revenge porn", and financial abuse.
Actress Evan Rachel Wood (who has accused Brian Warner a/k/a Marilyn Manson of abusing her) testified in favor of the proposed expansion.
See, https://lawandcrime.com/high-profile/actress-evan-rachel-wood-testifies-she-was-abused-by-a-high-profile-person-in-hearing-connected-to-jennifer-dulos-case/.
FOR MORE OF MY ARTICLES ON POVERTY, POLITICS, AND MATTERS OF CONSCIENCE CHECK OUT MY BLOG A LAWYER'S PRAYERS AT: https://alawyersprayers.com